Cape Air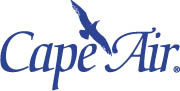 Redeem miles with Cape Air
Regions
Redeem AAdvantage® miles for travel on Cape Air between St. Louis, MO (STL) and:
Ft Leonardwood, MO (TBN)
Kirksville, MO (IRK)
Marion, IL (MWA)
Owensboro, KY (OWB)
Earn miles only when flying on an American Airlines flight operated by Cape Air.
Travel embargo dates
Embargo dates vary by market.
Redeem miles
Use AAdvantage miles to book award travel on Cape Air which allows you to travel to and from your desired destination using a combination of our airline participants.
Contact information
AAdvantage Reservations
800-882-8880
Cape Air: 800-227-3247